Forgive me, but I can tend to evangelize something that is already so in the zeitgeist that the only appropriate response from my learned followers (all 10 of you, ha ha) could be an exaggerated roll of the eyes, and a "honey, get this, verymarkmccormick just discovered
Hulu!
ha ha ha!" Well this is not about Hulu, it's even more mundane: it's about audiobooks.
I'm feeling wordy today and this is a
slog
(slow blog--yes I coined the term for blogs like this that tend to be long but infrequently updated), so allow me to digress before I start my rhapsody about how pleased I am with myself to be introducing an entirely new form factor to verymarkmccormick--by that I mean, I've written about television, books, theater, film, photography, and probably even performance art here, but with this entry I introduce a few form factor to my repertoire: audiobooks.
Here's the digression: Isn't it delicious when you finally catch on to something that others have known for years. You feel left out, but you can't make it work, and then something clicks. My imperfect analogy for this is teeth flossing. I knew I was supposed to do it, but I hated it, and it never became a habit until one day I was sitting in the dental hygienist's chair and she said in her beautiful Persian accent, "some of my patients do it in the shower." Yes! I love extending shower time. I had already been brushing my teeth for years for two whole minutes with my Sonicare and now here was an excuse to stay in there another 30 seconds. I have flossed every day since. It's not easy being verymarkmccormick, but when it works it works.
So the audiobook idea started with similar life-changing toss-off suggestions from my friend Ed. Once he said he was listening to a book by a mutually-favorite author, Colm Toibin, and another time he said he listened to podcasts and books at the gym and in the car. Ed is one of those super-together people who you aspire to be like, so I took note. (Ed, now will you subscribe to the blog?)
At first I was at first puzzled, because I thought at the gym you had to endure a thumping motivational beat to keep you going, and cars were for old CDs, NPR, and mindless pop. But I was convinced to try.
So first I listened to Brooklyn by Colm Toibin over a couple of long car trips. I still hung on to NPR for my news source in the morning driving to work, but for long stretches an audiobook is magic. Time flies and your mind is, or should be, really alert because you're driving. Similarly in the gym, I knew I couldn't give up reading the New York Times on the stair machine for cardio, with a musical soundtrack, but I decided to try listening to books and podcasts while doing Pilates, yoga, weights, with a similar impression: your mind wakes up and gets a workout too. Yes, it was hard to put aside the Lady Gaga remixes, but I did it.
I LOVE listening now, and here's the best stuff I've found:
Brooklyn by Colm Toibin. A terrific read, sure, but a more engrossing listen, because the actress reading somehow manages to give each of the many characters a different voice, and all that lovely lilting Irish brogue. I've written about Toibin before, I think. He may be my favorite writer. I'm also reading his collection of short stories The Empty Family--heartbreaking narratives that might very well be a good listen, but somehow seem just right for bedtime reading: a quiet room, soft light helps you witness the characters' subtle and exquisite struggles.
Bossypants by Tina Fey, read by Tina Fey. Laugh out loud funny (people do stare at you in the gym when you laugh, but when you're just walking around with a grin, because you're relishing a particular extended anecdote, well, they'll just think you're enjoying some exercise-induced endorphin buzz, and they'll admire your discipline.) Yes, Bossypants is a solid OMG and LOL experience, and it's like Tina Fey is having such a
moment
right now so it's delightful to understand what got her to this point and how her life was shaped largely from an awkward adolescence fully of drama camp summers and sassy gay friends in college. Equally funny are her behind the scenes stories of Saturday Night Live and trips to visit her husband's family in rural somewhere-or-other ("what's so great about apple butter? I don't get it.")
Billy Collins Live. Here's an accessible poet. He was poet laureate of the US for a while. (Like Maya Angelou, I believe). He's funny and profound at the same time. Poetry at the gym! Who knew?
Visit from the Goon Squad by Jennifer Egan. Engaging, complex novel about a bunch of characters whose lives overlap. They seem to have some common neuroses in common: how to love themselves and each other in an age of extreme self-consciousness. It won a Pulitzer. Again, the actress reading the book makes each character unique.
Okay, so that's a book of short stories, a biography, a poetry progam, and a novel, take your pick and start listening.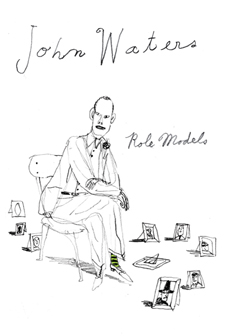 Now, interestingly, one book I'm in the middle of, a perfect gift, Role Models by John Waters does not work as an audiobook very well, though it does work as an old fashioned book. It's got a lot of detail and a lot of asides, the narrative is quick, witty, and smart and if you read it, you'll go fast, but you'll find yourself read sections, even just sentences and clauses again to make sure you caught the drift and to relish Waters' general outrageousness: (did he just say. . .? omg he did. . . ) But as Waters reads it on the audiobook, it goes by too fast. And he's not the best reader: he drops the ends of his sentences, and at times he mumbles; at other times he roars. The state of the art isn't, yet.
I've also taken to listening to podcasts like Fresh Air, and certain KCRW programs. My friend Ed said that listening to such things at the gym is like working out with the most interesting friend imaginable. And in the car it's like having a traveling companion who is endlessly entertaining and doesn't expect you to do anything but drive safely. Easier said than done. You may find yourself leaning into the speakers. . .